Why Julian Assange isn't setting a good example?
Every Sunday, Planet X has Guests that detail certain information which could lead to trouble for them from their employers to serious legal issues even Jail.
Yet, these varied people ignore such worries along with ridicule to openly speak on live radio / Internet on issues often ignored by the Main-Stream Media.
If, these people some of which aren't in the popular consciousness can be this brave then why is Julian Assange, founder of WikiLeaks looking at escaping to Ecuador?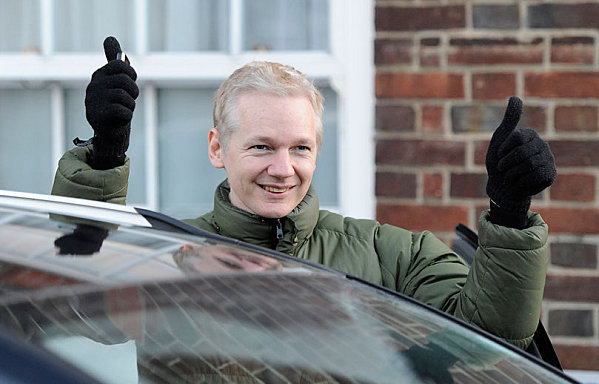 Without getting into the complex nature of the reasons, what get's me is if Mr. Assange is involved in the release of classified American Military documentation then he wasn't expecting a response?
Assange should have courage in facing the consequences of his actions, as like it or not he's a Poster-Boy for those involved in 'The Truth Movement' along with Whislteblowers, definition of which is available on a UK Government Website, of all places.
How many people that are currently having internal struggles with various issues ranging from financial corruption to witnessing bullying of a colleague in work are now going to hold their silence rather than be brave & stand up for the truth due to seeing the current behaviour of Mr. Assange?
The Government of Ecador have made the following brave decision on Thursday 16th August 2012...


In willing to face the almighty wrath of their American counterparts by protecting an Australian citizen as Ecuador may suffer financially for such open bold behaviour. It also put's into question their relationship with the UK, that currently simply want's to enjoy being in the Global Spotlight due to the Olympics - Paralympic Games.
Foreign affairs editor at The Observer Newspaper [UK] - Peter Beaumont correctly sums up how the actions of Mr. Assange could have very serious repercussions for ALL Nations:
Julian Assange asylum row puts UK in catch-22 situation
WikiLeaks however claimed to have an 'Ace Card' this being an on-line File simply called - Insurance.
Basically, should any Foul Play occur to any member of the WikiLeaks Team... a password will be released on The Internet that will detail information the American Government does not want under ANY circumstances made Public?
This has lead to some even questioning if the ultra-classified information has definitive prove that the American Military-Government is engaged in regular contact with Aliens & the nature of this professional relationship..!!
More information on this potential game changer:
WikiLeaks Posts Mysterious 'Insurance' File
Yet, if having such powerful information why run to the London Embassy of Ecuador instead of standing his ground?
Mr. Assange might have simply realized that the game is no longer fun but very serious still he could listen to Planet X, each Sunday & obtain some inspiration like others look towards him for within their lives.